Shelf to display
Guy Maillot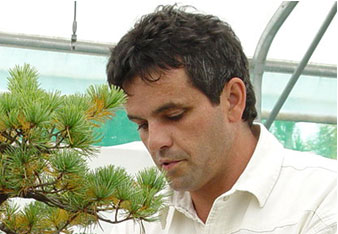 My annual trips to Japan have enabled me to select and introduce into Europe a number of very rare varieties, such as FUJINAMI NISHIKI, BI HOO, HANA MATOI, TAIMIN NISHIKI, TSURU NO MAI and many more.

The horticulture diploma that I obtained in 1980 gave concrete expression to my growing passion for the plant world.

The fifteen years of experience gained while running my company have enabled me to further increase my knowledge, recognize a quality tree, realize what it needs, and hence avoid parasites and diseases or cure them.

I also collaborated in writing the Japanese reference work on maples "Book for Maples".

This enabled me to meet Japanese amateur and professional specialists, who invited me to collaborate in writing the reference work, the "Book for Maples".

When a company is guided by a passion, it gives high priority to the quality of the plants and their presentation.

A constant search for originality and harmony. Since 1989.

The nursery
Maillot-Bonsaï is a nursery created in 1989 in Relevant (in the Ain department of France), specialized in the production and importation of Japanese maples and bonsais.

Today, the collection includes some 900 maple varieties and cultivars, including 700 that are available for sale.

To offer such a large number of varieties, our nursery maintains a very large stock of mother plants from which scions are harvested.

3500 grafts are produced and grown each year.The reward for this work is certification by the Conservatory of Specialized Plant Collections (CCVS). This organization awards a seal recognizing precision in nomenclature and certifying the quality and good health of the plants.